The Russians are Here! Moscow
Moscow

Clicking on any picture will take you to a larger version
| | |
| --- | --- |
| Gorky Park, nearly seven kilometers of open space in the heart of the city, is on the banks of the Moskva River. | |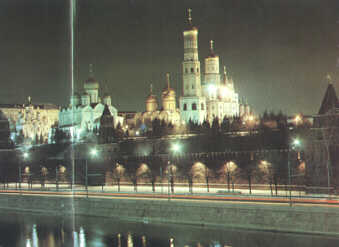 Kremlin came from the word kreml, which means "fortress". The Kremlin in Moscow was built on a hillock strategically located between the Moskva River and a tributary in the middle of the vast Russian plains. Brick battlements wall in a triangular area of under twelve acres. Within the Kremlin, are both secular and religious buildings from all ages -- ours included.

Left to right in the picture are: the Cathedrals of the Annunciation, Archangel, Assumption and the Bell Tower of Ivan the Great, standing 320 feet high. It is filled with storey upon storey of bells. The largest is 64 tons and the smallest crafted of delicate silver.

The Kremlin: ". . .a miniature of the largest country in the world." (ref MOSCOW AND LENINGRAD OBSERVED, by Georges Bortoli, translated by Amanda and Edward Thomson, Oxford University Press, 1975)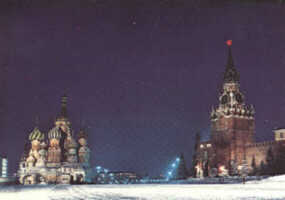 St. Basil's Cathedral and the Saviour Tower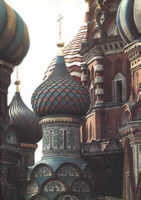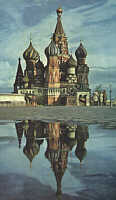 The Cathedral of Basil the Blessed is at the southern end of Red Square, and opposite the Saviour Tower, a main gate to the Kremlin. The cathedral is composed of eight chapels, each capped by a uniquely decorated onion dome, all built around a central church.
"It is without a doubt the most original monument in the world." --Theophile Gautier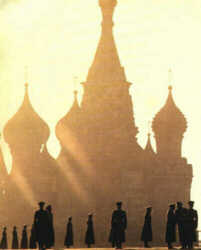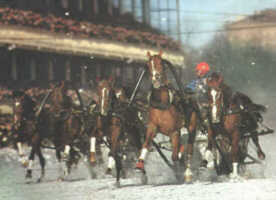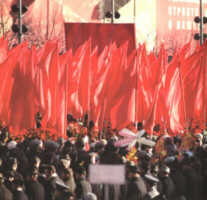 (left) How's this for horse racing? Where the weather's extremely cold much of the year, people learn to accomodate and carry on outdoors anyway!

(right) Many of you know, this used to be a common sight on Mayday in the old Soviet Union.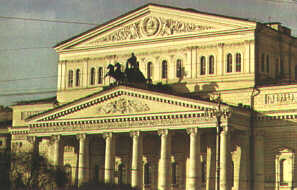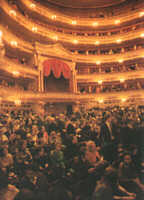 The Bolshoi Theatre: There have been performances at the Bolshoi (Grand) Theatre since 1825. This is an example of classical Russian architecture. The building has suffered its misfortunes, burning down in 1853. The 1856 reconstruction is the now familiar structure that theatre goers of today are accustomed to. World War II also took its toll; the building was damaged by a German bomb.
Major alterations in 1956-58 resulted in air conditioning, provided by water from an artesian well nearby.
There are 2200 plush red seats in the auditorium of gold and white decoration.

14.02.04