The Russians are Here! Samovar



What is a SAMOVAR?


No, it's neither a country east of Arabia, south of the North Pole, west of China, north of Antarctica -- nor a Muslim prayer ritual.
Here's how the book, "Russian Cooking" explains it:
Tea from a samovar is a mixed drink: strong tea from the pot, diluted with hot water. The hostess* fills her samovar with cold water and puts burning charcoal in the draft chimney. With the extension fitted on (top illustration), she boils the water. With the extension off and no more smoke coming from the chimney, the samovar is carried to the table. Strong tea essence is poured from the teapot and boiling water is added from the spigot (bottom illustration).
---
*Personally, I think it could also be "host", but remember this book was published in 1969, when men apparently couldn't fathom how to brew tea!
---
Illustration and text from:
RUSSIAN COOKING
by Helen and George Papashvily
Time-Life Books
1969

---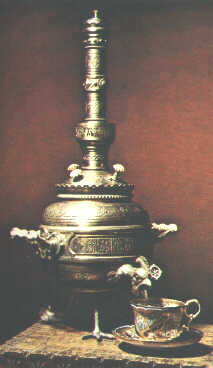 14.02.04