| | |
| --- | --- |
| These are the griffons on Bank Bridge. The bridge was designed by engineer G. Treter and built in 1825-1826. The griffons are the work of sculptor P. Sokolov. | |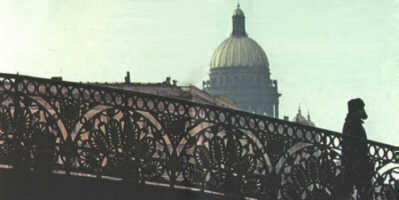 There are more than 380 bridges in St. Petersburg. This one is called the Singer's Bridge. St. Isaac's Cathedral is in the background.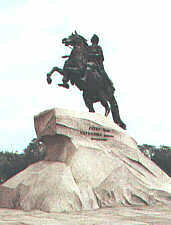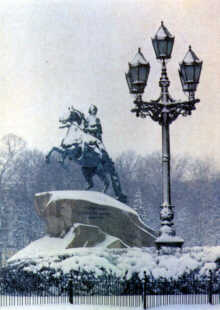 Equestrian Statue of Peter the Great:
Erected 1782. This was sculpted by Etienne Maurice Falconet, who lived in Russia ten years to finish the work. But he did not sculpt the face; this was left to Falconet's pupil, Marie-Anne Collot.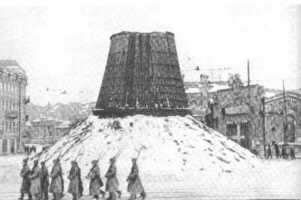 During World War II, Leningrad and its citizens suffered through a 900 day siege by the Germans, who mistakenly judged that the Russians would give up to escape the oppressive yoke of Communism. The black and white photo above depicts the Equestrian Statue protected by sandbags to save it from the bombing.

(The WWII pictures (above and below) came from THE 900 DAYS by Harrison E. Salisbury, Harper & Row, 1969)
Petrodvoretz (the Palace of Peter): Peter the Great wanted to imitate Versaille. Specialists were imported from Paris to build the fantastic fountains -- all 142 of them which sprout 2000 jets of water.

German troops occupied Petrodvoretz from 1941 to 1944. They actually fired artillery on Leningrad from here. The palace was ransacked and razed by the Germans before they left. Millions of rubles were spent on restoration but the work will never be finished, as many treasures were stolen and have never been recovered.




Seeing The Great Cascade, however, one would think all's complete. Water flows down past many fountains, hundreds of statues made of gold and marble, vases and bas-reliefs -- all beautifully reflected in the pools.