Russian Art

Clicking on any picture will take you to a larger version



THE ART OF PAINTING

THE VOLGA BOATMEN by Ilya Repin
This painting has come to symbolize, in the minds of many, the people of Russia straining against their chains.
| | |
| --- | --- |
| | ICE SLIDE, St. Petersburg by F. de Haenen, ca 1912 |
The ice slide, or ice mountain, was the most popular and the most Russian of all the cold weather amusements in a land with extreme winters. Going back centuries to the 15th and 16th, this phenomena was also popular because Russia is mostly a flat country, making hills a sensation to be savored.

"As soon as winter came, in squares and public places all over the land, ice hills were erected, usually near a river. They were constructed of wood -- a narrow long-legged temporary stage that rose to a height of 30 or 40 feet and sometimes even higher. The platform, to which one ascended by wooden stairs, was supported by tree trunks and wooden pillars. Two such platforms were constructed to face each other and were set parallel so that the force of sledding down one would carry a rider all the way down to the steps of the other. . . Like the side of an abrupt cliff, the slope was at first very steep. It then flattened out at the bottom, with sand at the very end. . . to slow down the flying sleds. The whole surface of the course was covered with large blocks of ice, frozen shining and smooth in a few seconds from torrents of water thrown over them."


ref THE LAND OF THE FIREBIRD: THE BEAUTY OF OLD RUSSIA by Suzanne Massie, Simon and Schuster, NY, 1980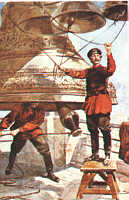 BELL RINGERS by F. de Haenen, ca 1912
Starting in the 10th century, the pealing of bells became very important in Russian life. Sounding alarms, warning travelers during snowstorms, telling of disasters, deaths and funerals, festivals and holidays, they had their own language. Cast in many sizes of copper, bronze, and silver, these bells rang out with much tonal variety in timbre and power of sound.

The painting shows that bells weren't rung in the Western manner of swinging them from the top. Ropes were attached to the tongues, and manually swung like this to produce the sounds that Russians came to accept as part of their lives.


THE ART OF FABERGE
| | |
| --- | --- |
| STRAWBERRIES. House of Faberge | SPRING FLOWERS EGG. House of Faberge, 1890 |
A third generation Russian of Huguenot descent, Peter Carl Faberge took over the family goldsmith business in 1870 at the age of 24. The art of this business, which included silversmithing and work with precious jewelry, reached its pinnacle from 1881 to 1917, during the reigns of the last two Russian czars. During this time, some seven hundred craftsmen worked for Faberge.

The House of Faberge was located at 24 Morskaya street in St. Petersburg. Faberge lived and worked here. All of the workshops were under one roof. But Faberge had establishments in Moscow and Odessa, with branches in London and Paris.


THE ART OF BALLET
Especially in the late 1800's and early 1900's (even well into the Communist era), ballet held a position of immense artistic importance in Russia. Unlike in Continental cities such as London and Paris, ballet was much more than a divertissement in an opera, or a performance to enhance a theatrical production.

THE BALLET WAS THE PRODUCTION

Wednesdays and Saturdays were ballet nights for sold out performances. Try to get a box? Many were passed down from father to son.
ANNA PAVLOVA by Valentin Serov, 1909

Anna Pavlova (1882-1931)

Pavlova, one of the most acclaimed dancers of all time and a great classical ballerina, was born in St. Petersburg, the illegtimate daughter of a laundress.

She entered the Imperial Ballet School in 1891. Her talent was so great she never danced in the corps de ballet, pirouetting right into solo roles in 1899. By 1906, she was the prima ballerina at the renowned Maryinsky Theatre of St. Petersburg.

Both Pavlova and Nijinsky danced for Ballet Russes, a company the famous ballet producer Sergei Diaghilev formed.

Her most famous role: The Swan in Le Cygne ("The Dying Swan", 1905), created for her by Russian choreographer Michel Fokine.

She was also internationally famous for dancing Les Syphiles and Coppelia

PORTRAIT OF NIJINSKY AS THE FAUN by Lev Bakst, 1912

Vaslav Nijinsky (1890-1950)

Born in Kiev, Nijinsky came from a family of itinerant but talented Polish dancers. His father was a great classical dancer and gave him lessons. He first appeared on stage at the age of three. He had fantastic jumps, or grands jetes, leaping higher than the other male ballet students, and having a great "hang time". Like Pavlova, he attended the Imperial Ballet School.

First public appearance with the St. Petersburg Imperial Ballet: 1907. He was the first to dance many roles, including Petrouchka.

One of his most famous (or infamous) first roles was "The Afternoon of a Faun" (L'Apres-midi d'un Faune). The ballet lasted only eight minutes, and was Nijinsky's debut as a choreogapher. A mere few seconds at the end of the dance scandalized Paris, of all cities! The faun, wearing mottled tights and sporting pointy ears of wax, danced with seven nymphs. The nymphs fled at the end, but one of them left her veil. The faun fell upon this with a rapid, convulsive erotic movement, making some of the audience hiss and boo loudly. The police were even called in to watch a subsequent performance to judge if it was obscene or not. SOUND FAMILIAR?

". . .decent people will never accept such animal realism" -- quote from an article called Un Faux Pas.


14.02.04