Mario Lemieux: Le Magnifique+++ Should any image appear broken, please reload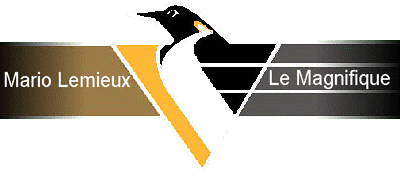 19 March 01 -- Let me make this clear right here:
I am not Mario Lemieux.
Je ne suis pas Mario Lemieux.
Le Magnifique, Mario Lemieux, changed hockey history in many ways. Not only did he earn several awards and trophies, but he brought the Pittsburgh Penguins from an obscure, possibly to-be-sold team to one that rivals the popularity of any NHL team. Just look for his number 66 hockey sweater at any game in any city!

Mario retired at the young age of 31, making his statistics eternally frozen like the ice he used to skate on. But his memory will never retire.


Update 13.12.00: Nor it seems, will Mario retire. He is returning to play hockey!

PITTSBURGH (AP) - Mario Lemieux, whose comeback has excited his sport as much as Michael Jordan's did for basketball, wants to be hockey's dominant player again. "I'm not coming back to embarrass myself," Lemieux said at a news conference Monday. "I wouldn't come back unless I thought I could play at a high level, regain the title of the best player in the world. I have the desire and passion to do it." Lemieux denied his unexpected comeback after a 3 1/2-year layoff has anything to do with enhancing the finances of the Pittsburgh Penguins franchise he now owns. He also predicted it would be even more successful than the comebacks he made in 1991 from back surgery, in 1993 from cancer and in 1995 from a year's layoff for health reasons. "I feel it will be the easiest," he said. "I'm healthy and I've been resting for 3 1/2 years. I'm getting a fresh start mentally and physically." Lemieux, 35, plans to start practicing with the Penguins early next week.

Sing with me: dooby dooby doo. . .

24 Jan 2002: Mario is displaying his great skill with one of his remarkable scoring streaks. The Penguins are playing the best hockey of the season. Mario has moved himself into seventh place on the NHL's career scoring list. The 36-year-old has four goals and 10 assists in his last six games.

This is dedicated to you, Mario!
Thanks, Mario

If you walk away,
walk away,
I will follow
--U2
Leave Your Skatemarks in My Guestbook
View the Pucks in My Guestbook



Le Magnifique has inspired
memories so far

26 Jan 98
14 February 2004

---

Let everything you do be your religion
and everything you say be your prayer
--Lakota Sioux

You've got to dance like nobody's watching,
and love like it's never going to hurt
--anon

Nothing 'tis good or bad,
but thinking makes it so
--"Hamlet" by William Shakespeare

Moral indignation is jealousy with a halo
--H.G. Wells


©1998-2004