The Russians are Here! Betterov with Fedorov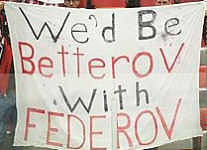 I like the enthusiasm, but guys, please spell Fedorov right!
Forget the reporters who said Sergei wasn't scoring, forget the business side of hockey, forget anyone jealous of his money!

This man is still a great hockey player and that's why I put this site up. That's it. No other reason.

Well, maybe one. All of us ladies are lucky that he's also handsome!

Enough of this.
HEEERE'S SERGEI!!
Team: Detroit Red Wings
Center
Shoots left
Sweater Number: 91
Born December 13, 1969 in Minsk, USSR


some sources say Pskov, USSR

Height: 6'1"
Weight: 200
Acquired: 1989 entry draft,
Wings fourth choice (74 overall)
1st NHL game 1990
Three Stanley Cup Rings
---
Sergei Fedorov re: the Stanley Cup:

"When I was growing up in Russia, I didn't think such a thing existed. Until I came to North America, I probably wasn't exactly understanding of what the Stanley Cup was all about. Being in the Finals 2 times in 3 years, it is definitely the toughest trophy to win in your hockey career. It is not easy to compete throughout the 3 rounds and get to the Finals. Now, it is my desire and dream to win it."



And did he and the Red Wings ever win!!!
---
[Fedorov Web Rings]
[Russian Links]
[Russian Rings]
[Russian Awards]
[The Russians are Here!]
[Gordeeva and Grinkov]
[Ilia Kulik]
[Culture or Cliche?]

NYET, NEM, NO!!! I'm not Sergei and don't assume I am. However, this personal lack doesn't stop me from creating fan pages.

Let's enjoy this for the tribute it's supposed to be.

Sign My Russian Dacha Book
See Who Visited the Dacha

Sergei's points +

Here it's always plus, never minus!

26 May 03
©1998-2003