The Russians are Here! Ilia Kulik: Glorious Gold Medalist 2

Ilia Kulik: Glorious Gold Medalist
"The shirt won" -- Ilia Kulik

&copy ?
"The shirt didn't clash so badly with the gold medal" -- John Jeansonne (Newsday)

Ilia Kulik is the most exciting skater since Viktor Petrenko! Yes, we have Elvis Stojko and Todd Eldredge and even Phillipe Candeloro is excellent, but in my heart I was cheering for Ilia to win the gold at the '98 Olympics in Nagano, Japan.

Congratulations!

---

"...a Russian who... skates like a feather floating in a soft breeze. Kulik was too, too grand and belonged at the top of the stand. He combines superb athletic ability with Barishnikov ballet artistry, a flair of flying..."

Woody Page, Denver Post 2/15/98
Ilia Alexandrovich Kulik

Born May 23, 1977 in Moscow, USSR

Height: 6'1" (185cm)

Weight: 156lb (73kg)

Family:
Nadezhda (mother, translator)
Alexander (father, civil engineer)
Svetlana (sister, swimmer)

Currently dating figure skater Katerina Gordeeva

&copy Katja Rupp
"Kulik was as smooth as premium Russian vodka."
Jim O'Leary - Canoe slam!sports 2/14/98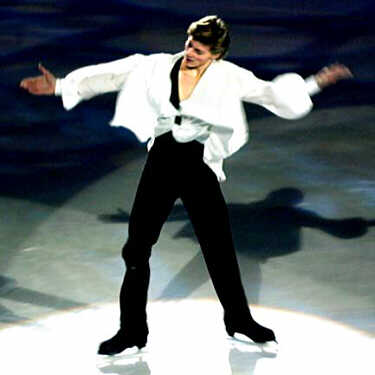 &copy Katja Rupp?
Thanks to J. Barry Mittan, the Electronic Photojournalist and Katja Rupp for many of the wonderful photographs you see on this site!

I must also thank Valerie Milon of A Figure Skating Obsession for her gracious generosity!

I express further appreciation for Kulik's Krew Online: Ilia Kulik's Official Fan Club.

Sign My Russian Dacha Book
See Who Visited the Dacha